Rather than serving a formal Thanksgiving dinner this year, you may want to consider setting up a Thanksgiving buffet instead.
Having everything set out buffet-style allows your guests to assess all of the offerings before they start serving themselves.
So rather than piling more and more food on your plate as each course is passed around the table — and mindlessly reaching for second and third helpings as the night wears on — everyone can eat mindfully and choose the foods and portions they really want.
With that in mind, here are expert tips on how to set up a healthy Thanksgiving buffet.
1. Make Sure There's Enough for Everyone
You never want to have too little food, but you also don't want to end up with pounds of leftover mashed potatoes and stuffing in your fridge.
So how much food do you need in your Thanksgiving buffet?
"There is no magic number for how much food to make for gatherings, as some people will go back for second or thirds or maybe even bring an extra guest," says Registered Dietitian Nutritionist Mascha Davis, MPH, RDN, founder of Mini Fish and author of Eat Your Vitamins.
As a general guideline, Davis suggests you allot the following for each guest:
A quarter pound of turkey (or other lean protein)
One half to one cup of each side
Two rolls
A slice of pie
Be sure to aim for variety in your entrees and side dishes — not everyone loves green bean casserole.
2. Set Up the Buffet Properly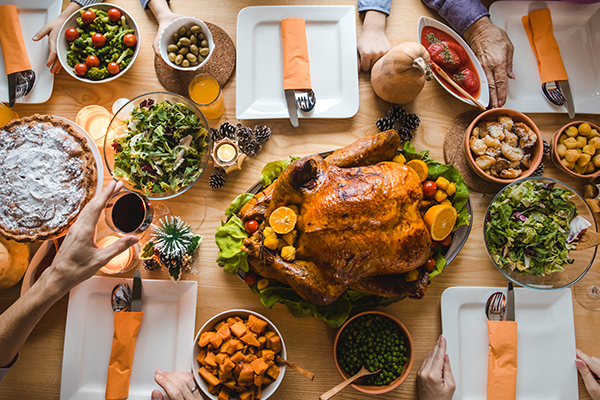 For the main Thanksgiving buffet table, Davis suggests laying out everything in this order:
Lighter, healthier sides (salads, veggies)
Lean proteins (turkey, ham, tofurkey)
Feel-good starchy sides (mashed potatoes, stuffing, cornbread)
Toppings (gravy, cranberry sauce)
This way, guests have plenty of plate space for the most nutritious dishes.
By the time they get to the starches and sauces, they won't have as much room on their plate, and they'll naturally take smaller portions of those foods.
Put the butter dish on the dining table, and put tableware, drinks, and desserts each on their own table.
3. Label Dishes
When you're planning the menu for your Thanksgiving buffet, ask your guests if they have any food allergies or dietary restrictions.
If they do, be sure to let them know beforehand which foods to avoid to prevent any accidents from happening.
When you're setting up your Thanksgiving buffet, label every dish and note if anything has common allergens — like nuts, wheat, or eggs — or is appropriate for vegans or vegetarians.
If any guests are bringing food, ask them to do the same.
It's also a good idea to have more than one serving spoon for each item, so guests will be less likely to use the same spoon for different dishes (which can be dangerous for guests with food allergies).
4. Downsize Your Plates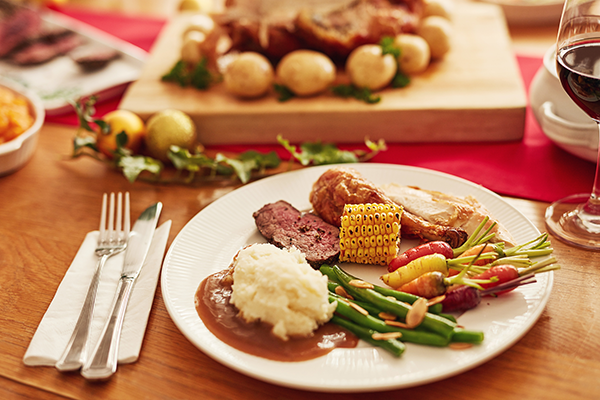 At Thanksgiving, it's tempting to use satellite-sized dinnerware. But "larger plate sizes can trick our minds into eating more," Davis says, which can leave you feeling uncomfortably overstuffed.
(We've all been there.)
Davis recommends opting for smaller plates and bowls for Thanksgiving dinner. Guests can always head back for seconds if they're still hungry.
5. Consider Pre-Portioning Dishes
"It might be a good idea to have pre-portioned items to keep all guests safe and eliminate congestion at the Thanksgiving buffet line," Davis says.
You could pre-cut casseroles, ladle soup into ramekins, or even use small mason jars for cold dishes.
6. Enjoy a Taste of Everything
Don't skip breakfast! Eat as you normally would on any day, so when it's time for Thanksgiving dinner, you won't be ravenously hungry. This will help you avoid overeating.
When it's time for the main event, go ahead and savor your favorite Thanksgiving foods.
"This holiday is meant to be a time of celebration with family, friends, and good food, so do just that," Davis says. "One day will not undo your healthy lifestyle. Just keep in mind a balanced plate by filling half with veggies, one quarter starchy items, and one quarter protein. If you're hungry after 20 minutes, then go grab seconds."
7. Try These Healthy Recipes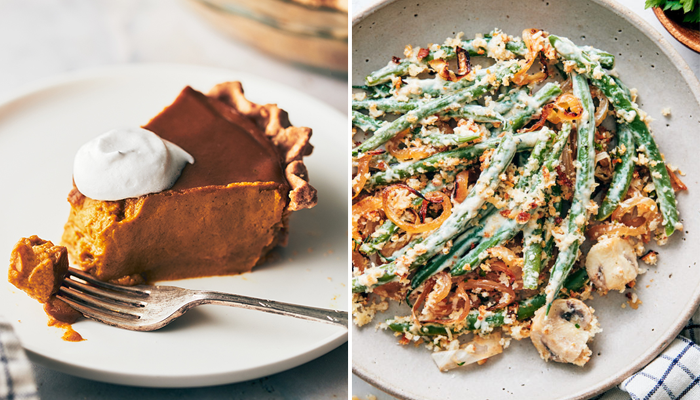 Looking for inspiration for your Thanksgiving buffet? Opt for healthier versions of your favorite Thanksgiving foods, and mix in some creative side dishes and plant-based menu options.
Here are a few crowd-pleasing recipes for the best Thanksgiving dinner:
Healthier green bean casserole
Just as creamy as the classic, this version calls for a bit more cooking — and it's totally worth it. Get the recipe here.
Vegan stuffing
Check the label of the bread you buy for this recipe to ensure it's vegan. (Some brands add milk products or eggs.) Get the recipe here.
Healthier cranberry sauce
Use orange juice to add sweetness plus depth of flavor. Get the recipe here.
Whole-wheat crust pumpkin pie
This healthier pumpkin pie recipe includes pumpkin puree, evaporated nonfat milk, maple syrup (or raw honey) for sweetness, and a whole-wheat crust! Get the recipe here.