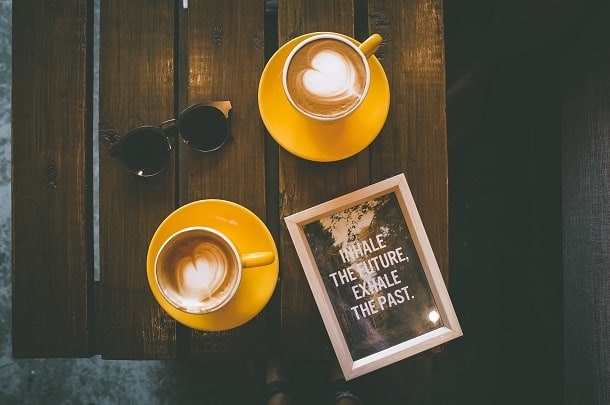 Oftentimes you want to hang on even when times are tough. Keep moving forward. Keep going towards your goals and dreams.
But sometimes there may be one or several healthy and smart reasons to let go. To move on. To start over and to begin anew somewhere else.
So in today's post I'd like to share the most powerful maybe it's time to give up quotes.
To help you and motivate you to make a positive change if you deep down think and feel that you need to.
And if you want even more helpful and timeless advice then check out this post with hang in there quotes and this one filled with motivating keep pushing quotes.
Inspirational Maybe It's Time to Give Up Quotes
"There's a trick to the 'graceful exit.' It begins with the vision to recognize when a job, a life stage, or a relationship is over – and let it go. It means leaving what's over without denying its validity or its past importance to our lives. It involves a sense of future, a belief that every exit line is an entry, that we are moving up rather than out."
Ellen Goodman
"A man is like a novel: until the very last page, you don't know how it will end. Otherwise, it wouldn't be worth reading."
Yevgeny Zamyatin
"Failure is only the opportunity to begin again; this time more intelligently."
Henry Ford
"If you're looking for a happy ending and can't seem to find one, maybe it's time you start looking for a new beginning instead."
Ritu Ghatourey
"Just because someone stumbles and loses their path, doesn't mean they're lost forever."
Professor X (from the X-Men)
"A very wise man once told me that you can't look back — you just have to put the past behind you and find something better in your future."
Jodi Picoult
"Sometimes a door appears in front of you; You keep trying to open it and get in! However, if you give up the door, the road before you suddenly opens!"
Mehmet Murat ildan
"The chief beauty about time is that you cannot waste it in advance. The next year, the next day, the next hour are lying ready for you, as perfect, as unspoiled, as if you had never wasted or misapplied a single moment in all your life. You can turn over a new leaf every hour if you choose."
Arnold Bennett
"If you don't ever move away from what feels safe then you'll be comfortable. But you will at the same time not move on towards the bigger and better things that you honestly and realistically could have."
Unknown
"Letting go helps us to live in a more peaceful state of mind and helps restore our balance. It allows others to be responsible for themselves and for us to take our hands off situations that do not belong to us. This frees us from unnecessary stress."
Melody Beattie
"Even if our life circumstances take a while to reflect our inner decisions, once decisions are made, everything in our life will move in the direction of aligning with that."
Donna Goddard
"When one door closes, another opens; but we often look so long and so regretfully upon the closed door that we do not see the one which has opened for us."
Alexander Graham Bell
"The best years of your life are the ones in which you decide your problems are your own. You do not blame them on your mother, the ecology, or the president. You realize that you control your own destiny."
Albert Ellis
"Every woman that finally figured out her worth, has picked up her suitcases of pride and boarded a flight to freedom, which landed in the valley of change."
Shannon L. Alder
"You will find that it is necessary to let things go; simply for the reason that they are heavy. So let them go, let go of them. I tie no weights to my ankles."
C. Joybell C.
"Successful men and women keep moving. They make mistakes, but they don't quit."
Conrad Hilton
"Sometimes the sparrow felt tired, sometimes he even felt like giving up, but that was when he spoke the happiest."
Michael James Payne
"You can spend minutes, hours, days, weeks, or even months over-analyzing a situation; trying to put the pieces together, justifying what could've or would've happened…, or you can just leave the pieces on the floor and move on."
Tupac Shakur
"The only thing a person can ever really do is keep moving forward. Take that big leap forward without hesitation, without once looking back. Simply forget the past and forge toward the future."
Alyson Noel
"You may have a fresh start any moment you choose, for this thing that we call 'failure' is not the falling down, but the staying down."
Mary Pickford
Helpful Maybe It's Time to Give Up Quotes
"Giving up is always an option, but not always a failure."
Cameron Conaway
"Hard work beats talent when talent doesn't work hard."
Tim Notke
"Our greatest weakness lies in giving up. The most certain way to succeed is always to try just one more time."
Thomas Edison
"One bad relationship could make you never fall in love again. So if you are in an unhealthy relationship, then maybe it's time to give up."
Unknown
"When someone you love says goodbye you can stare long and hard at the door they closed and forget to see all the doors God has open in front of you."
Shannon Alder
"The first step towards getting somewhere is to decide you're not going to stay where you are."
J.P. Morgan
"Don't ever give up. Don't ever give in. Don't ever stop trying. Don't ever sell out. And if you find yourself succumbing to one of the above for a brief moment, pick yourself up, brush yourself off, whisper a prayer, and start where you left off. But never, ever, ever give up."
Richelle E. Goodrich
"Letting go doesn't mean that you don't care about someone anymore. It's just realizing that the only person you really have control over is yourself."
Deborah Reber
"Sometimes it's better to end something and try to start something new than imprison yourself in hoping for the impossible."
Karen Salmansohn
"Don't quit. Never give up trying to build the world you can see, even if others can't see it. Listen to your drum and your drum only. It's the one that makes the sweetest sound."
Simon Sinek
"If you're constantly having to wonder where you stand with someone, maybe it's time to stop standing and start walking."
Unknown
"Some of us think holding on makes us strong, but sometimes it is letting go."
Hermann Hesse
"Nothing is predestined. The obstacles of your past can become the gateways that lead to new beginnings."
Ralph Blum
"It is always important to know when something has reached its end. Closing circles, shutting doors, finishing chapters, it doesn't matter what we call it; what matters is to leave in the past those moments in life that are over."
Paulo Coelho
"If you are not willing to risk the usual, you will have to settle for the ordinary."
Jim Rohn
"Don't dwell on what went wrong. Instead, focus on what to do next. Spend your energy moving forward together towards an answer."
Denis Waitley
Relatable Maybe It's Time to Give Up Quotes
"You think you can change a guy, that he'll be different with you, that you'll finally be the one to tame him… and before you know it, you're alone in your underwear at nine o'clock on a Saturday night, crying to Adele songs, eating ice cream straight from the gallon, and wondering what the hell is the matter with you that you fell for such a goddamned man-child after he explicitly warned you not to."
Julie Johnson
"It's confusing when you can't determine if the signs are for you to give up or just a test to see how long you could hold on."
Unknown
"I always had this idea that you should never give up a happy middle in the hopes of a happy ending because there is no such thing as a happy ending. Do you know what I mean? There is so much to lose."
John Green
"I believe in fighting for a relationship but when you're fighting alone, it's not a relationship anymore…"
Unknown
"The world is a goddamned evil place, the strong prey on the weak, the rich on the poor; I've given up hope that there is a God that will save us all. How am I supposed to believe that there's a heaven and a hell when all I see now is hell."
Aaron B. Powell
"Psychologically, the worst feeling ever is not knowing whether to wait or give up."
Nitya Prakash
"Sometimes the only solution is to give up and to move on to something new and healthier. That wont happen automatically though. You have to make the decision and move yourself forward even if some doubts may linger and try to keep you in your current place."
Unknown
"I realize there's something incredibly honest about trees in winter, how they're experts at letting things go."
Jeffrey McDaniel
"She's standing at the door. Ready to open it. Because fighting for a healthy relationship is one thing. But all his demons are too much. The fighting means ripping herself to pieces nowadays. And it has become an abusive relationship. So it is time to move on."
Unknown
"I just wanted to tell you that I understand if you go. It's okay if you have to leave us. It's okay if you want to stop fighting."
Gayle Forman
"This time, for the first time, I saw the possibilities in giving up. I even found hope in it."
Jay Asher
"People have a hard time letting go of their suffering. Out of a fear of the unknown, they prefer suffering that is familiar."
Thich Nhat Hanh
"I walked away because you were too busy finding faults in me while I was busy overlooking yours."
Unknown
"It happens to everyone as they grow up. You find out who you are and what you want, and then you realize that people you've known forever don't see things the way you do. So you keep the wonderful memories, but find yourself moving on."'
Nicholas Sparks
Short Maybe It's Time to Give Up Quotes
"There is no real ending. It's just the place where you stop the story."
Frank Herbert
"Maybe it's time to give up when the relationship brings you more pain than joy."
Unknown
"Never underestimate the power you have to take your life in a new direction."
Germany Kent
"To dare is to lose one's footing momentarily. To not dare is to lose oneself."
Soren Kierkegaard
"All the art of living lies in a fine mingling of letting go and holding on."
Havelock Ellis
"Celebrate endings—for they precede new beginnings."
Jonathan Lockwood Huie
"Stop looking for happiness in the same place you lost it."
Unknown
"You should never give up your inner self."
Clint Eastwood
"If you don't have a passion, you'll give up."
Steve Jobs
"Forgiveness says you are given another chance to make a new beginning."
Desmond Tutu
"You are allowed to let go of all those that do not set you free anymore."
Dhiman
"Start where you are. Use what you have. Do what you can."
Arthur Ashe
"There is a time for departure, even when there's no certain place to go."
Tennessee Williams
"When you live in past memories of a relationship or a job more than the present, maybe it's time to give up and move on."
Unknown
"No matter how hard the past is, you can always begin again."
Buddha
"Do not fear failure but rather fear not trying."
Roy T. Bennett
"You will evolve past certain people. Let yourself."
Mandy Hale
"Your past does not equal your future."
Anthony Robbins
"Character consists of what you do on the third and fourth tries."
James A. Michener
If you liked these maybe it's time to give up quotes then share them with a friend or a family member that may need it on social media or via email.
Want even more inspirational ideas? Check out this post with comforting and positive Wednesday blessings, plus this one with Sunday blessings.