Whether it's grocery shopping for an older friend, mobilizing moms to make lasagnas, or donating to a food bank or food drive, food is a powerful way to support our communities.
With the holidays approaching, more people are starting to think about how to donate to a Thanksgiving food drive or even host one.
In 2020, food banks across the nation saw a huge surge in demand coupled with challenges, such as shortages and limited volunteers.
Feeding America estimated that one in six Americans dealt with hunger issues as a result of the pandemic.
"The COVID-19 crisis has brought food insecurity into the spotlight, and many families will be experiencing food insecurity," says Adriene Worthington, RDN, LDN, director of nutrition programs for The Greater Boston Food Bank. "The holidays will look much different for everyone this year, but it will be even more difficult for those struggling with hunger."
Now more than ever, how we think about Thanksgiving and our own concerns surrounding the holiday might be a little different.
How to Donate to a Thanksgiving Food Drive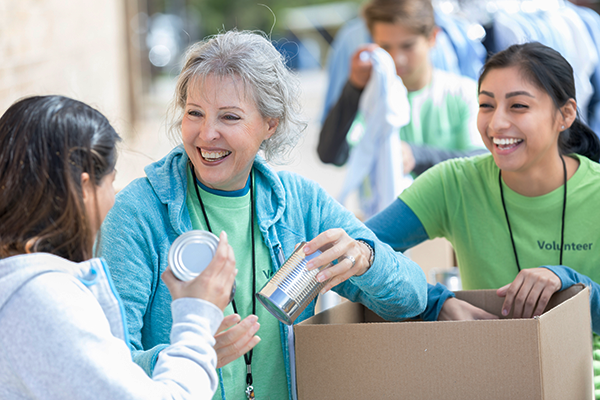 "Since COVID-19 has limited the availability of volunteering opportunities, there are two main ways you can help," says Worthington. "The first is to support your local food bank with a monetary donation." The second is to donate items you purchase yourself.
And before you head to the store or grab your credit card, let's talk about the difference between a food bank, a food pantry, and a food drive.
A food bank is a large warehouse that distributes millions of pounds of food to local organizations, such as food pantries, soup kitchens, and housing programs, explains Worthington.
Food pantries are organizations that distribute groceries or cooked meals directly to those in need — and might also run food drives, or requests from the public for foods.
With purchasing power supported by donations, food banks can help reduce overall costs by buying in bulk.
"For example, The Greater Boston Food Bank can provide a full Thanksgiving dinner for a family of five for only $25," says Worthington.
The big difference is purchasing items you personally select or letting an organization decide.
How to Find a Thanksgiving Food Drive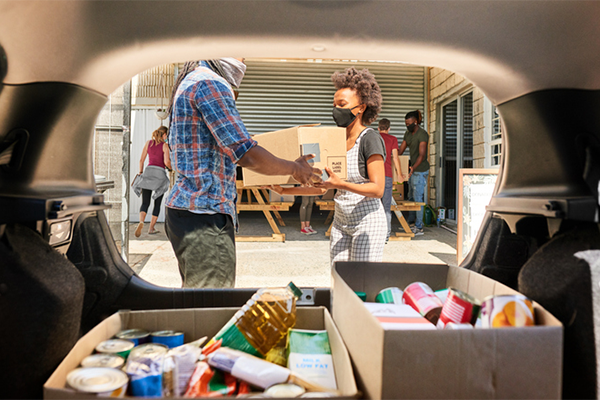 Around the holidays, many grocery stores and local organizations run Thanksgiving food drives.
Another option is to check the website of a local food pantry or food bank to find out where food drives are happening.
"It's important to ask how they accept donations from the community," says Worthington. "They'll tell you details like days and times they're open and any COVID-related regulations."
"You can also donate to virtual food drives," says Caroline Pullen, MS, RD, LDN, nutrition manager at Second Harvest Food Bank of Middle Tennessee. "While donating to a traditional food drive limits you to shelf-stable foods, donating to a virtual food drive allows us to source the foods we need the most, including healthy, fresh produce."
What Items Should I Donate to Thanksgiving Food Drives?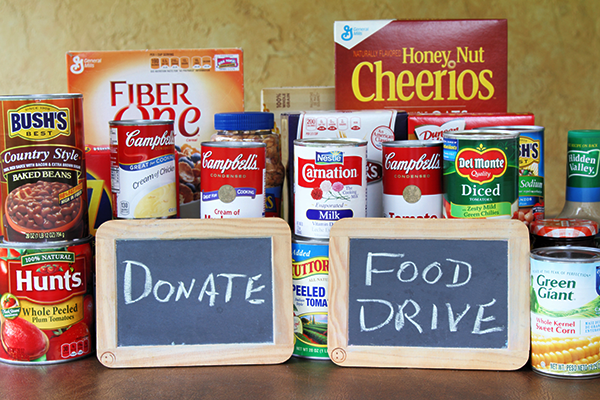 "Food drives only take shelf-stable items like boxes, cans, and containers you find in the middle of the grocery store that don't need refrigeration," says Worthington.
Healthy, filling foods are always in demand. "Our most requested items are peanut butter, canned fruits and vegetables, canned meat, beans, soup and stew, pasta and cereal," says Pullen.
Here are some good items to start with:
1. Oatmeal
On chilly days, oatmeal is a comforting breakfast food that is easy to stretch and personalize based on what you have.
"Think about the days before and after Thanksgiving and donate breakfast cereals like farina and oats," says Worthington.
2. Nut butters
"When donating to a food drive, it is important to think about what foods people want and need," says Pullen.
Nut butters are always a popular choice, especially for kids. Think beyond peanut butter and consider some allergen-free options like sunflower seed butter, tooo.
3. Reduced-sodium canned veggies
"Reduced-sodium items like canned vegetables or vegetable broth will help families create meals," says Worthington. "If you want to keep it Thanksgiving-focused, think about the kinds of sides you can provide."
4. Canned proteins
Canned tuna and beans are shortcuts to healthy meals. "Proteins such as low-sodium canned beans, chicken, and tuna are good options," says Worthington.
With canned beans, you can also make plant-based options for Thanksgiving dishes, then find creative ways to use leftovers.
5. Canned pumpkin puree
It's Thanksgiving after all, and nothing says fall like some yummy pumpkin spice. "Pie filling and cake mixes are great, too, because who doesn't like dessert?" says Worthington.